About Polydactyl Cats...
Ernest Hemingway
In the late 1920's Ernest Hemingway lived in Key West, Fl with his wife, Pauline. He was given a six toed cat by a ship's captain. Today, Hemmingway's home is a museum, home to about sixty well taken care of cats. About half of the cats are polydactyl. Since Key West is such a small island, most are the cats are related. The polydactyl gene is caused by inbreeding, thus a large population of Polydactyl cats on the island. The Hemmingway Home has a great website, that goes into detail about the original "Hemmingway Cats." Please see my links page.
Toes, Toes, Toes
Most cats have five toes on the front and four on the back. Polydactyl cats have at least six toes on the front (maybe more) and can somethimes five or more on the back. The cat's toes can appear as mittens, with a "thumb", or as a straight row of toes. Polydactyl toes are genetic, and can be passed through generations. Please spay or neuter your cat. No one wants to see a homeless Hemmingway!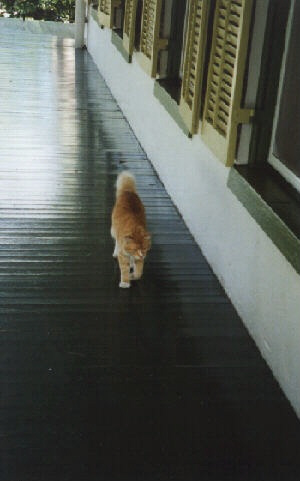 Polydactyl Care
Hemmingways do require special care. They can have problems with their nails. Their nail can become ingrown, causing the nail to curve and become painful. If this happens have the nail removed. Another nail problem is the "superclaw." A superclaw is when 2 nails become fused together. A veterinarian can take steps to correct this problem also. I do not advocate removing a cat's claws (unless for medical purposes.) I think that it renders them defenseless, and is un-necessary. Cats can be trained not to be destructive. I recommend watching your cats nails and trimming when necessary.